FAQS: EVERYTHING YOU NEED TO KNOW ABOUT TAMPA'S 2 DAY FLOORING
All of Your Flooring Installation Questions Answered Here
You Have Questions. We Have Answers.
Maybe you've never had new flooring installed in your Tampa home before. That's okay! That's where 2 Day Flooring comes in. We'll answer all of your questions regarding flooring installation, hardwood flooring, vinyl flooring, tile flooring, and laminate flooring. If any of your flooring questions aren't answered here, please reach out to our customer service team today! We are more than happy to help and answer any other questions you might have. Contact 2 Day Flooring in Tampa today and have your new floors installed in as little as 2 Days!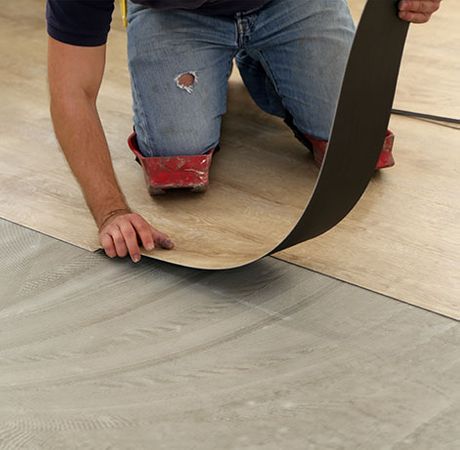 Services We Offer:
Flooring Sales & Installation
Hardwood Flooring Installation
Laminate Flooring Installation
Tile Flooring Installation
Luxury Vinyl Flooring Installation
FAQs About Our Flooring In Tampa

Looking For Something Else?
Do you offer flooring installation in areas other than Tampa?
Yes, we perform flooring installation in Citrus Park, Land O' Lakes, Lutz, Odessa, New Tampa, Tampa, Wesley Chapel, and Westchase.
How can I purchase flooring?
You can purchase flooring from us or another flooring distributor. We can still perform the flooring installation, even if you purchased flooring from another company.
How long does floor installation take?
We named our business "2 Day Flooring" because we are dedicated to getting your flooring installation done quickly and precisely so you can get back to your life.
Many people struggle with flooring installation companies because the process can take several days or even weeks to finish the project. At 2 Day Flooring, though, we have a well-trained team of installation techs to get your new floors installed perfectly in just two days.
How long have you been in business?
We have more than a decade of flooring installation experience. We are passionate about what we do, and we aim to provide the best flooring options and materials to our clients.
What factors do you look at when providing an estimate for flooring installation?
There are several things to consider when deciding on flooring in a home because no home or family is the exact same. We can help you decide on the type of flooring to have installed by looking at a few things, such as:
The size of the area you want to have flooring installed
Which area of your home you want redone
The traffic volume of this area
Your budget
These factors play into what type of flooring will be best for the area of your home you'd like to have redone. If you're not sure what you want, we can always make suggestions on the type of flooring that would work best for your home and your lifestyle.
How do different flooring options compare as far as cost goes?
We want to make all types of flooring as accessible as possible for our clients. As far as cost goes, hardwood flooring and tile flooring are going to be more expensive, but we can help you find the most affordable option for you.
Our more affordable flooring options are laminate flooring and vinyl flooring. These options use synthetic materials, making them less expensive than other types of flooring.
Pricing shouldn't be a concern though. We offer a variety of flooring options that are beautiful, durable, and affordable so that you are guaranteed to find something you love.
How durable are the different types of floors that you offer?
All of our floors are scratch-, moisture-, and stain-resistant to different degrees. While tile is more susceptible to breaking, it will take a lot of force to do so. Hardwood, while being resistant to damage, can become dirty and is harder to maintain in high-traffic areas or places like the kitchen where food and drinks could spill more easily.
Laminate flooring and luxury vinyl flooring are going to be the most durable options for your floors.
How do I maintain my floors?
Different types of flooring will require different amounts of maintenance to keep them clean and beautiful for years to come. Laminate, vinyl, and tile flooring can be kept clean easily by sweeping and mopping regularly.
Hardwood is similar, except you don't need to apply any water to the floors. Simply use a broom or dry microfiber mop to clean dust and dirt from the floor. If there is a spill, you can spot-clean. Hardwood flooring should be resurfaced about every 10 years to keep them looking polished and new.
For more information about specific types of flooring, check out the sections below.

Looking For Something Else?
What are the different types of wood flooring?
Wood floors come in two varieties: hardwood and softwood. Hardwood is more durable, resistant to dents and scratches, and requires less maintenance. Softwood, although beautiful, is literally softer than hardwood, is less dense, and can be difficult to finish. As far as flooring goes, softwood is best as an accent in small areas and places that see little traffic or heavy furniture.
Which rooms does hardwood flooring look best in?
Hardwood flooring will look best in the larger areas of your home where there isn't a lot of food prep being done or potential for spills. Areas like the living room, dining room, bedrooms, offices, studies, libraries, and dens are great places for hardwood as they are areas with calmer energy.
These areas are less likely to see food spills or excess moisture, which can damage and warp your hardwood flooring quickly.
Where should I avoid having hardwood flooring installed?
We don't advise hardwood flooring in bathrooms, laundry rooms, or kitchens. These areas are more likely to see spills and moisture, which can quickly damage hardwood flooring if not taken care of quickly.
What if I want a hardwood flooring look in the bathroom or kitchen?
Luckily, there are different styles of flooring that will give you the look and feel of hardwood flooring without being as susceptible to warping or damage. Laminate flooring and luxury vinyl flooring are great alternatives to hardwood that have a similar appearance.
How do I choose a style of hardwood flooring for my home?
Choosing a style of hardwood flooring depends entirely on your taste and how your home is designed. Think about how different directions of the wood grain will affect the appearance of the room.
There are three different styles of hardwood flooring. The most traditional style is strip flooring, which is linear and all the wood flows in the same direction. Plank style hardwood flooring is similar to strip flooring, but the pieces are laid down in planks that are about three inches wide.
Perhaps the most unique style of hardwood flooring you could have installed is parquet. This style is installed in a non-linear fashion, and can be more geometric and complex in design. If you're looking to make a statement with your hardwood flooring, parquet is a great option for a conversation piece.
What pattern will look best in my home?
Again, this is entirely up to you and the type of interior design and furniture styles your home already has. You can choose a random pattern of plank widths and lengths or you can have a more uniform and traditional pattern. You can also have floors installed at a 45-degree angle for a more luxurious look.
What colors are available for hardwood flooring?
Hardwood flooring comes in a variety of colors, but is generally categorized into light and dark wood colors. Lighter colors will add more vibrancy to your home, and you'll be able to see the texture in the wood because of the higher contrast. Darker wood gives the room a rich, deep feel and adds a sense of sleekness to your home.
Can I purchase hardwood flooring with more character?
Character is one of the things about hardwood flooring that you can't purchase. The character of your floors develops over the years as it's used and walked on. Hardwood flooring will develop little dents, nicks, scratches, and slight color changes over the years to create more texture and character.
It's important to note that different colors of wood will develop different types of character. Lighter wood and darker wood are affected by wear differently and will age differently. This is important to keep in mind when deciding on a color of hardwood flooring.
What else affects how the character of hardwood floors will develop?
When deciding the type of character you'd like your hardwood flooring to develop, it's important to decide on the type of grade your hardwood flooring is. Grade is broken down into two categories: prefinished and unfinished hardwood flooring.
The different types of character grades are cabin grade, clear grade, shorts, select and better, country and exclusive, traditional and antique, as well as tavern grade.
Check out hardwood flooring page for more information about these different types of grades and the character it adds to your home, as well as additional information about color, pattern, styles, maintenance, and how to have hardwood flooring installed.

Looking For Something Else?
How does the durability of laminate flooring compare to hardwood flooring?
Laminate flooring is a great option for areas of your home where you want a hardwood look but need floors that are more durable and easy to maintain. While hardwood flooring builds character over time, it is also more susceptible to moisture damage, dents, scratches, and knicks.
Laminate flooring, on the other hand, is incredibly durable and can withstand scratches, spills, and foot traffic much better.
What makes laminate flooring so durable and affordable?
Laminate flooring is comprised of four different layers that make it more durable and affordable than other flooring options. The bottom layer of laminate flooring is called the balancing layer, which works to prevent upper layers from collapsing. It also prevents moisture from absorbing underneath the floors.
The next layer is the MDF or HDF core board. This is the thickest layer of the laminate flooring and includes notches and grooves so that laminate planks can lock together.
The pattern layer is the layer that contains the floor pattern you see. It's basically a photograph of the material you'd like (such as hardwood) and is textured with layers of resin.
The top layer is the protective layer that seals all of the other layers together and prevents moisture from soaking into the other layers. This layer can be customized to different levels of shine.
What types of patterns are available for laminate flooring?
Since the pattern layer of laminate flooring is essentially a photograph, the ability to customize the appearance of your laminate flooring is practically endless.
The most popular patterns for laminate flooring are wood, stone, tile, and plastic. Installation will vary for these different patterns in order to properly mimic the natural appearance of the material.
Is there a reason I wouldn't be able to have laminate flooring installed?
The condition of your subfloors will affect how much prep work will need to be done before starting the installation of laminate flooring. Floors should be flat, smooth, and not have any carpet nails sticking out of them.
Floors can be prepared in different ways for laminate flooring. Underlayment is a great option to smooth out the subfloor and act as a barrier between the laminate flooring and subflooring.
What types of installation are available for laminate flooring?
Depending on the condition of your floors and the pattern of flooring you want to have installed, there are a variety of installation options. There is glueless laminate flooring, glued laminate flooring, pre-glued laminate flooring, and — as we stated above — underlayment laminate flooring.
How difficult is it to install laminate flooring?
You can find plenty of tutorials online for information on how to install laminate flooring yourself, but because you need to prep the subfloor first and choose from different installation methods, a laminate flooring job is best left to the professionals. With experience installing a variety of floor types, 2 Day Flooring will be able to install flawless laminate floors that you will love for years to come.
How do I clean and maintain my laminate flooring?
Unlike other types of flooring, laminate flooring is incredibly easy to clean and maintain. All you need is to sweep and mop regularly. For tough stains, you can safely use household cleaning solutions.
For more information about laminate floor layers, available patterns, types of installation, and maintenance, check out our laminate flooring page.

Looking For Something Else?
When is luxury vinyl flooring the best option for my home?
Luxury vinyl flooring is great for areas of your home where you want a hardwood floor or tile look, but are looking for something that is easier to take care of. Luxury vinyl flooring works best in areas that don't see too much direct sunlight. It's also a great option for areas of your home that see a lot of traffic.
How does sunlight affect luxury vinyl flooring?
Vinyl is susceptible to warping and color fade from sunshine. If there are windows in your home that provide direct sunlight to your floors, make sure you have blinds or shades installed so that you can close them during the sunniest parts of the day.
Another option for your vinyl flooring that gets direct sunlight is to cover it with a rug. This is a great option for smaller portions of flooring.
Is vinyl flooring susceptible to other types of damage?
While sunlight is the biggest adversary of luxury vinyl flooring, it is resilient to other types of damage. Vinyl flooring is moisture-, dent-, scratch-, and stain-resistant, making it a great option for areas in your home that see a lot of traffic or at a higher risk for spills.
Are there different installation options available for luxury vinyl flooring?
With different patterns available for luxury vinyl flooring, it's important to have installation options that will complement those patterns. Luxury vinyl can be installed in planks, tiles, or sheets depending on what the pattern of the flooring is and where it's being installed.
Are there different finishes available for luxury vinyl flooring?
Luxury vinyl is available in three different finishes: vinyl no-wax, urethane, and enhanced urethane. Each offers a different level of resistance and required maintenance to keep your floors in good condition.
Vinyl no-wax is the most basic finish, but it is still resistant to scuffs and stains. This finish is great for high-traffic areas like the kitchen, mudroom, and entryways. Vinyl no-wax can be damaged by chemicals, though, so do not use any household cleaners on this finish.
A urethane finish is slightly more resistant to scuffs and stains than a vinyl no-wax finish is. It's also a little easier to maintain because it won't be damaged by cleaners or chemicals.
Enhanced urethane is the longest-lasting finish for luxury vinyl flooring. It has a thicker finish and will keep your floors looking better for longer.
How do I clean and maintain my luxury vinyl flooring?
Sweeping and then mopping with a damp mop is the best way to keep your luxury vinyl floors clean. Any spills can easily be wiped up, but you can also use household cleaning products as long as the finish on your floors is not the vinyl no-wax.
One thing in particular to pay attention to when maintaining your luxury vinyl flooring is furniture. Use moving pads underneath furniture when rearranging rooms, and consider placing furniture pads between the feet of furniture and vinyl flooring to prevent potential scratching or scuffs.
How are patterns applied to vinyl flooring?
There are two methods for applying color and patterns to the vinyl flooring. If you're looking for a richer finish, inlaid flooring is the best option because the color is embedded into the vinyl sheets.
Another method for applying the pattern is to have it printed directly onto the vinyl. This type of application works best if you're having the vinyl flooring installed in sheets.
For more information about finishes, installation options, and caring for your vinyl floors, check out our luxury vinyl flooring page.

Looking For Something Else?
When is tile flooring a good option for my home?
It may sound surprising, but tile flooring is a great option for almost every room of your home. Especially in Florida — where you're trying to keep your home as cool as possible almost year-round — tile offers a solution. While bathrooms and kitchens are a common choice for tile flooring, it can be placed in any room of your home to keep it cooler and add some style to the space.
What type of style should I pick for my tile flooring?
There are countless styles of tile flooring to choose from, so you'll have the greatest amount of variety to pick from when having tile flooring installed.
Just to name a few, there are ceramic, marble, slate, granite, onyx, quartzite, mosaic, and terrazzo tile options. If you're interested in having tile flooring installed in your home, we can help you decide which style will work best depending on the area.
Can I customize the pattern of my tile flooring?
Yes, creating custom tile flooring is all part of the installation process. We can help you decide on a design that complements the architecture of the room, as well as choosing colors that go well with your interiors.
Tiles come in a variety of shapes, sizes, materials, and colors, so the entire process is different from one installation project to the next.
How do I choose a color of grout?
You want your tile flooring to blend in well with the space that it's being installed in, and the color of grout you choose will determine how will it blends. As a general rule, it's a good idea to choose a grout color that's within three shades lighter or darker than the color of your tiles.
How thick should the grout lines be?
For tile flooring, it's recommended that grout lines be a little bit thicker to create more traction for walking. This will prevent people from slipping or furniture from sliding around. There are a few standard thicknesses available for grout: 3/8″, 3/16", 1/8″, and 1/16". At 2 Day Flooring, we can help you decide on the perfect grout line thickness for your home and tile flooring style.
What tools are needed for tile flooring installation?
In order to properly install floor tiles, there are several different tools needed. You'll need a carpenter's square, rubber grout float, a tape measure, a hammer, a notched trowel or spreader, and a tile cutter.
Since there are so many tools involved and a lot of expertise required to successfully install tile flooring, it's best left to the professionals. You can find tutorials online, but you might be spending several days or weeks on your tile floor installation. At 2 Day Flooring, we'll be able to get your tile floors installed in just two days.
What type of underlayment do I need for tile flooring?
In order to have an even surface to install tiles on, it's important to first install a backer board or underlayment layer to even out the surface of the subfloor. A cement layer can be put down, or a waterproof underlayment membrane works as well.
How do I maintain my tile flooring?
Tile flooring is incredibly easy to clean and take care of. It's resistant to moisture, breaking, stains, and scratches, allowing you to simply clean with a broom, mop, or vacuum.
As far as maintenance goes, unless you're tracking in serious amounts of mud, you'll only need to clean your floors every couple of weeks.
How do I maintain the grout?
Maintaining the tile grout is as important as maintaining the tiles themselves because the grout helps seal the space between tiles against moisture and stains. When cleaning your floors, make sure to sweep or vacuum before mopping.
When you do mop, use a slightly damp mop. This is because dirt and dust can be pushed into the grout line by the mop and get stuck on the gritty surface. By sweeping or vacuuming first, you'll remove most of the dirt and dust, and the damp mop will pick up the rest rather than a soaking wet mop that will push the dirt into the grout.
For more information about tile flooring styles, patterns, colors, benefits, and maintenance, check out our tile flooring page.

If you have a question that wasn't answered on this page, feel free to contact us. You can also use the same form to schedule a free estimate. At 2 Day Flooring, we always put our customers first and want to help you make the best flooring decision possible.